Terra Nova Cottages, RV & Conference Center welcomes you to our new facility that can comfortably accommodate a group from 10-100, depending on set up requirements, making us the ideal location for your next business meeting, family reunion or wedding.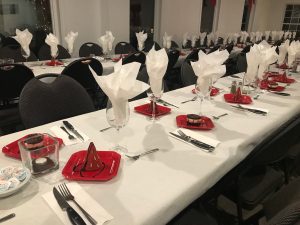 Located in scenic Port Blandford, overlooking the beautiful bay, with a breathtaking view of what nature has around us, we offer excellent service, dedicated attention & we will work with you to put together a perfect package, from small boardroom meetings to large corporate training session, family reunions, Private weddings, and everything in-between.
Want to sit around our huge fire pit with a s'mores kit, tell stories, have a laugh. We'll make it happen. We are committed to taking away all the worries & stresses of planning only to provide you with the best experience we can. We can tailor services to meet your needs.
Call us today to start your event, we'd love to hear from you
Host Your Wedding @ Terra Nova Cottages, RV Park & Conference Centre
Host Your Next Meeting or Retreat @ Terra Nova Cottages, RV Park & Conference Centre
Our Facilities
Our 1400 sq. ft conference room has all the requirements for your next business meeting or corporate retreat. With seating for 75-100 people and presentation equipment, your meeting is bound to be a great success. We have the capacity, style and experience to host those special family events that you and yours will cherish forever. The spectacular ocean view is the perfect setting for any event in your life.
If you are planning a meeting, get together, or an escape, talk to us – you can take over our entire home, and we will cater to all your needs, including:
Family Reunions
Small Weddings
Business Meetings
Group Conferences
Golf Retreats
Church Retreats
Snowmobile Trips
We are here to serve you. If you do not already see a service that you want offered, let us know, and we will try to meet your needs. If you need help planning a vacation, or want to learn more about our facilities – give us a call!
Conference Centre Gallery